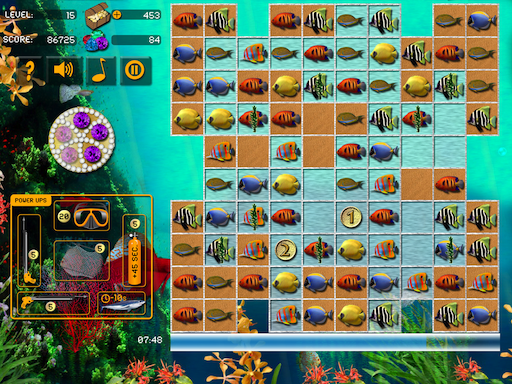 Sunken Treasure Match 3
While skin diving for sunken treasure you find some pendents. Unfortunately, the jewels have fallen out and are buried in the sand. Search the sand to find the hidden jewels and then free them from the grid by getting them to the bottom row. Free all the missing jewels before you run out of air. You may also play in untimed mode. Enjoy unlimited levels.
Start out with 25 free gold coins. Earn more coins as you play. The coins may be used to buy power-ups when you need them. If you run out of coins, you may play in the wading pool while you earn more coins, or purchase coins in the app store.
Compete for high scores and levels in the Game Center. Two sets of Leader Boards are kept in Game Center, one for Timed play and one for Untimed play.
How many jewels can you recover?
Swap adjacent fish to create matches of 3 or more in a row. Include sandy patches in a match to remove the sand and reveal hidden jewels. Some fish may be stuck in kelp. Include the square in a match to remove the kelp and allow the fish to move. Find and free all the jewels to complete the level.
Match 4 or 5 fish in a row to win gold coins. Tap on the coins in the grid to collect them.
Power-ups are purchased with gold coins. The power-ups include: extra air tanks, spear guns to shoot out rows or columns of fish, a net to take out a 3 x 3 group of fish, x-ray goggles to let you see where the hidden jewels are and a shark that scares the fish away to give you a new group of fish.
Power-ups that are unavailable are dimmed (for example, you do not have enough coins to purchase them, or you have already revealed all the hidden jewels in a level and no longer need the x-ray goggles).
Email: info@greatbydesign.com