African Safari Match 3
Match 3 play with a twist! While on African Safari you discover that some baby animals have gone missing in the dense jungle growth and in sand storms. Find the babies and rescue them by guiding them to a watering hole. To keep the babies moving in the right direction, you may rotate the board. Each time you rescue a baby animal, you will be rewarded with some textured paint in the paint vials. When all the vials are full, you will be able to paint your own tribal mask.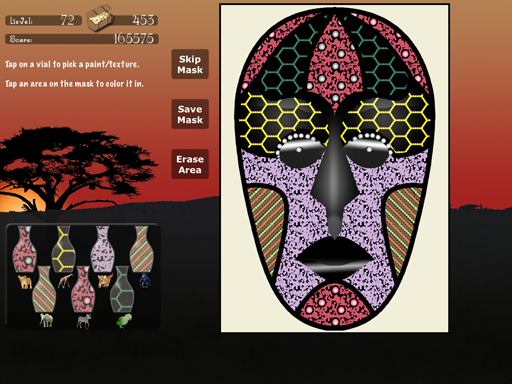 Swap adjacent animals to create matches of 3 or more in a row. Include sandy patches in a match to remove the sand. Some animals are trapped and cannot move. Include the square in a match to remove the trap and free the animal. Dense jungle growth is cleared by making a match in an adjacent square.
The lost babies are hidden in the sand or dense jungle growth. Watering holes can be anywhere. When you find a baby animal, get it to a watering hole. Rotate the board as you wish. The level is complete when all the babies have been rescued. Play in timed or untimed mode. In timed mode you have from sunrise to sunset to complete the level.
Match 4 animals and create a power token or a coin. To use the power token, include it in a match. Collect coins by tapping on them. Any 5-match earns a power zapper. Include the zapper in a match and all matching animals will be taken out.
Start out with 25 free coins. Each safari costs 1 coin. If you run out of coins, you may earn additional coins while playing in the free zoo, or you may purchase coins by tapping on the chest.
Email: info@greatbydesign.com